The Peruvians havent been to a World Cup since 1982, and two huge matches this week could decide my teams fate. For better or worse, Im keeping the faith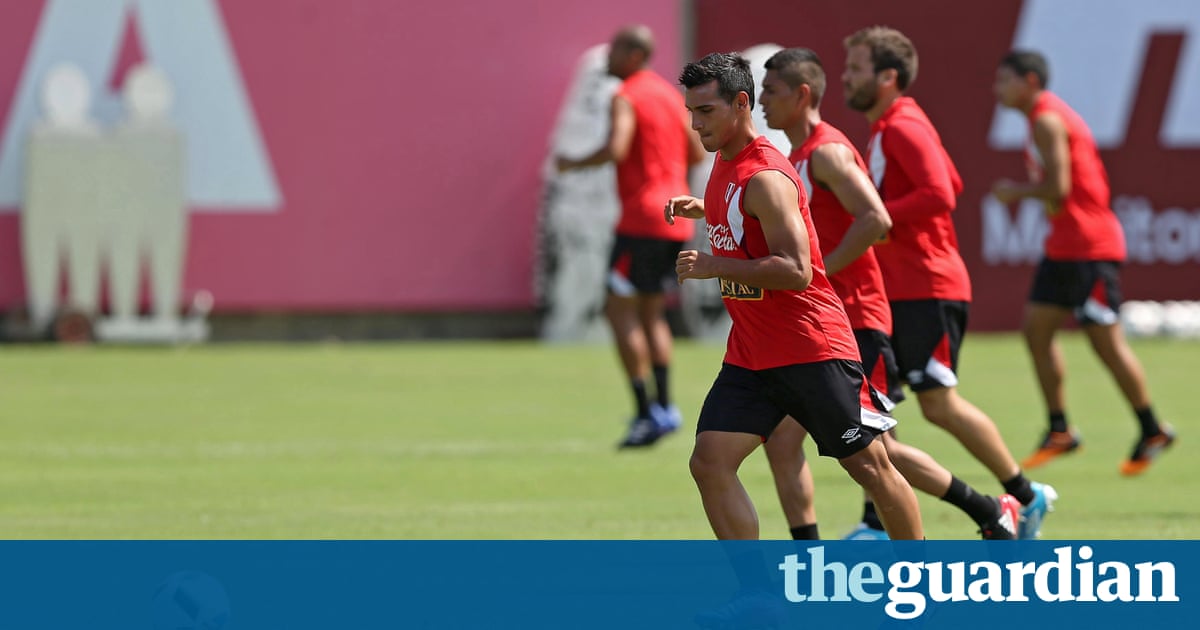 With six matches to go in South American World Cup qualification, the table could hardly be tighter. The difference between first-placed Brazil and fifth-placed Argentina is eight points. Below them, three other teams still have a realistic chance of qualification. Only Bolivia and Venezuela are out of it.
Given the competitiveness of Conmebol qualifiers where only four teams gain direct spots and fifth faces an inter-confederation play-off slot this is the time of year when calculators are in constant use. When every South American fan imagines the hypothetical and adds a point here or there, dreaming up different scenarios on how their team will make it to Russia.
If youre from Brazil, who have never failed to qualify for the World Cup, then I wouldnt lose sleep. But if youre Peruvian, like yours truly, the toughest stretch is about to start.
Peru currently sit in eighth spot with 14 points, five behind Argentina in fifth, but with 18 points still up for grabs. Last time around we only managed 15 points from the whole campaign, so there is hope. And funnily enough, it came in the strangest of ways.
After a 2-0 home loss to Brazil in November, things looked bleak. Peru had just only 11 points from 12 matches, and Russia was beginning to look more like a pipe dream than reality. But like a Peruvian telenovela, the plot thickened. Fifa punished Bolivia for fielding an ineligible player against Chile and Peru earlier in the year. Both matches were awarded 3-0 in favour of the opposition, and La Bicolor climbed up the table. A chink of light appeared.
If Peru fail to make it to Russia, that will be 36 years without a World Cup appearance. This one might be the toughest to swallow, given that finally we are a team.
Ricardo Gareca, Perus wily Argentinian coach, has found something we havent had for many years, something besides tactics, strategy and squad depth. Hes given us discipline.
Hes had his critics, but this has never shaken his ultimate goal: to translate young Peruvian talent into a team of disciplined professionals. In March a year ago, Raul Ruidiaz scored a goal in the last seconds of injury time to salvage a point against Venezuela but it wasnt enough to fend off the criticism. The Peruvian media, and a large portion of the fanbase, stopped believing in Gareca, but he was not fazed. He kept on in training, pushing the efforts of his young squad and demanding more and more.
This is, after all, a man who decided to play for River Plate after six years wearing the shirt of their fiercest rivals, Boca Juniors. If El Tigre can deal with wrath of Boca fans, he can deal with anything.
On Thursday, Garecas squad face last-placed Venezuela. They then host Uruguay the following Tuesday. This week promises to be make or break.
To those who never have to worry about qualification, who can ease their way to the World Cup by just walking through weaker opposition year after year Im looking at you, England its difficult to comprehend what Peruvians go through each qualification campaign. The struggle is most definitely real.
Some Peru fans visit their priest before every game, praying for a miracle that will never happen. Some, like my father, would only wear red and white for a week. I am past all that, but it would be a fiction to say I wasnt a nervous wreck before and during the game. Peruvians dont watch anything silently, and my emotions travel through 90 minutes faster than a Diego Simeone pressing drill.
My poor American wife never deserved this. But Ill never stop believing, even when its almost shameful to do so. Until I see mathematical impossibility, Ill still insist we can make it.
But a victory on Thursday would mean more than just three points. We need this.
As I write, the country is dealing with the worst flooding disaster in two decades, where more than 70 people have died and more than half a million in and near Lima have been affected. Mudslides have demolished roads and farmland and rivers have overflown, forcing people to flee their towns and villages.
Defender Miguel Trauco has already committed to donating $40,000 to help the victims. On Monday, Andy Polo confirmed a collection among the squad to raise even more money. The Peruvian FA has also said it will donate $30,000 before next weeks match against Uruguay.
This cant be fixed with just a game of soccer. There is no immediate remedy for disaster. But maybe, even if only for 90 minutes, we can stand together, hand in hand, and look to the future with a sense of hope.
Because sometimes, thats all you have left.
Read more: https://www.theguardian.com/football/blog/2017/mar/23/peru-fan-world-cup-qualifying