Real Madrid beat their fierce rivals Atltico Madrid 4-2 on aggregate after losing the second leg of the Champions League last-four tie 2-1 and will play Juventus in the final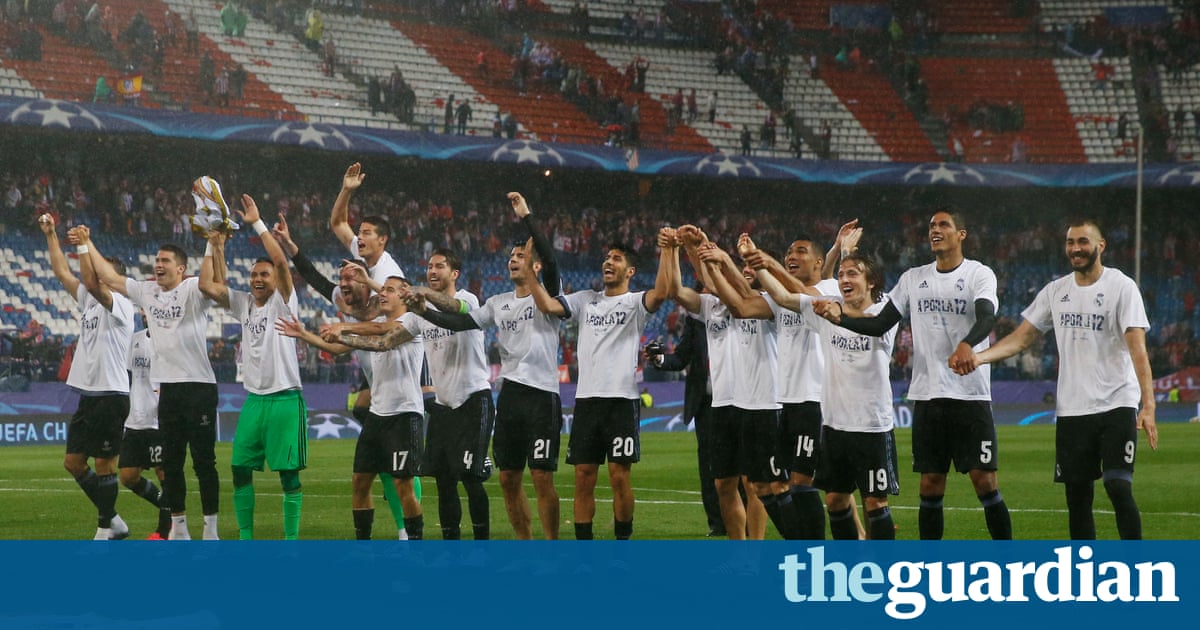 As expected it will be Real Madrid who travel to Cardiff to play Juventus in yet another Champions League final, their third in four years. An entertaining and occasionally wild 2-1 defeat by Atltico Madrid at the Vicente Caldern sealed a 4-2 victory over two legs, although Diego Simeones men will again wonder what might have been had they played with the same fearlessness at the Bernabu.
At the final whistle, as the stadium was drenched in violent spring thunderstorms and Simeone appeared to beat his chest and roar at the crowd, it was hard not to feel the sense of a wider ending, too. There is no real indication that Simeone will leave Atltico. But there was still a feeling of something shifting here, of a farewell to all that for a glorious mini era that has been defined by these wild European nights at the Caldern and a series of glorious misses at the sharp end of thiscompetition.
Elite football is all about seizing these moments and Real have the chance to become the first team to retain the Champions League. It is a fine achievement in its own right, not least when at times these Merengues can look like an Eton mess of a team, as they did in the opening 20 minutes.
Atltico had begun with genuine fury, swarming through the back of the Real midfield in an early surge that bought two goals and dragged the tie back to 3-2 onaggregate.
Somehow Real always seemed to have another gear, that familiar neighbourly upper hand. Plus, for all the glitz there is a hard, tempered steel to this team of serial winners, who stood firm where others might have been blown away in that early onslaught. At times they looked untroubled in the second half as Luka Modric and Isco set the tempo.
This match had been billed as a kind of pre-farewell to Atlticos crumbling home of the last half-century, a stadium of weird craning angles, excitingly open to the suburban skyline. Before kick-off the streets outside were surging with a red and white sea of chanting, horn-parping fans, and there was a great crackle of electricity as the teams emerged on to that square of scrubby lime green. There is one more Madrid derby to come but this was the last real gala occasion at the Caldern, a balmy, thunderous New Orleans-style street funeral after a fond 50 years.
This was also supposed to be a semi-dead rubber, Cristiano Ronaldo having taken his axe to the tie at the Bernabu with that combination-punch hat-trick. But from the start there was a sense of something slightly chaotic in the air as Simeone began with Fernando Torres up front alongside Antoine Griezmann, a sign of the need to chase this game from the first whistle.
As Real kicked off Simeone was out pacing his rectangle in weird black plastic overcoat and skinny slacks, urging his team forward. To huge roars Reals Sergio Ramos was upended and Luka Modric bundled. Torres drew a sharp near-post save from Keylor Navas. At the other end Jan Oblak plunged spectacularly to claw away a header from Casemiro.
It was raw, guttural stuff, Atltico pressing hard for an early goal that duly arrived in the 12th minute, Sal guez hanging above the defence and bulleting a header home from a right-wing corner. The stadium, which was already in a state of eruption, erupted a little further as Koke gestured to the main stand for more noise, more heart.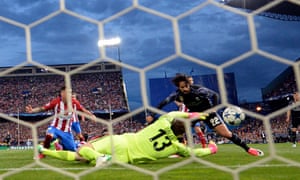 Read more: https://www.theguardian.com/football/2017/may/10/atletico-madrid-real-madrid-champions-league-semi-final-second-leg-match-report